Gustav Åhr, the New York-based artist known as Lil Peep, has died at the age of 21. With his fusing of trap beats, chiming guitars, and introspective, often bleakly self-flagellating lyrics, Peep mixed emo and hip-hop in a way that attracted an intensely devoted following and quickly made him one of the biggest breakouts from the loose consortium of SoundCloud-based rap stars. His mix-tapes racked up millions of plays both there and on Bandcamp, leading to mainstream profiles like this one from Pitchfork that declared his music "the future of emo," channeling the immortal angst that's fueled many a teenage wallow into genre-blurring music for a new generation.

Peep died in Tucson, Arizona, after reportedly being taken to a hospital for an overdose, although his official cause of death has not been released. In a now especially morbid video that was posted yesterday to his Instagram, Peep says he's taken six Xanaxes, adding, "I'm good. I'm not sick." Reacting to the news on Twitter, his manager, Chase Ortega, said, "I've been expecting this call for a year."
Peep made no secret of that drug abuse, rapping candidly about his use of prescription pills as well as his depression across songs that frequently dwelled in suicidal thoughts. Nevertheless, Sarah Stennett—chief executive at First Access Entertainment, which partnered with the rapper last year—says in a statement, "I do not believe Peep wanted to die. He had big goals and dreams for the future which he had shared with me, his team, his family and his friends." Stennett also added that she had "spoken to his mother and she asked me to convey that she is very, very proud of him and everything he was able to achieve in his short life. She is truly grateful to the fans and the people who have supported and loved him."
Those fans included many in the music world, who have been offering their own condolences today.
G/O Media may get a commission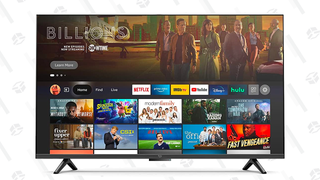 22% off
Amazon Fire TV - 50" Omni Series 4K - Early Access Deal
Peep, who got that nickname from his mother, was born in 1996 in Long Island, dropping out of high school and shuttling back and forth between coasts before finally settling in Los Angeles, where he recorded some of his most popular songs in his apartment. Drawing equally on his love for rappers such as Gucci Mane and rock acts like Brand New, My Chemical Romance, and Blink-182, he created music that he described to Pitchfork as "a whole new thing," a natural confluence of the emo and hip-hop genres he loved for kids raised on the same stuff, and who similarly saw no distinctions between them. Those kids responded in kind, gravitating to releases like crybaby, HELLBOY, and his official studio debut, Come Over When You're Sober, Pt. 1, which was released this past August.
Meanwhile, Peep's look—the wild mélange of tattoos that covered his face and body, combined with his brightly colored hair and deliberately clashing, often eye-searing wardrobe—caught the attention of the fashion world, who cast him in catwalk shows and gave him splashy magazine spreads. At the time of his death, Peep was at the end of a 44-date tour of North America that had included a sold-out show in New York. By all measures, his career was just beginning to flourish.
"In a couple of years, I'll be a household name," he told Pitchfork. "Everyone's going to know who I am. I've done so much in such a short amount of time already that I don't think it's that unreasonable of a goal."