In what now seems to be becoming something of a seasonal Hollywood event, a film studio has come under accusations of "whitewashing" today, after casting a Caucasian actor in the role of a minority character. Variety reports that Zach McGowan—who had a notable role as the dopey Jody on Shameless, and who co-starred on Starz's pirate drama Black Sails—has been cast in a starring role in Ni'ihau, a film about a Japanese pilot crash-landing on a sparsely populated Hawaiian island after the Pearl Harbor attack.
McGowan will play Benehakaka "Ben" Kanahele, the island resident who ultimately killed Japanese pilot Shigenori Nishikaichi, after the latter attempted a violent takeover of the tiny island, recruiting its three Japanese/Japanese-American residents in the process. (The Ni'hau incident is said to have been a major influence on the U.S. government's later decision to place its Japanese-born citizens in internment camps.) Kanahele—who was shot three times by Nishikaichi, and who was eventually awarded a Medal for Merit and Purple Heart—was full-blooded Hawaiian, while McGowan is Caucasian.
The clear-cut nature of the casting's flaws—i.e., Kanahele was a real guy, whose real descendants are still alive—has made Ni'hau an easy and obvious target for the ongoing argument that white actors shouldn't be case in roles that are written as—or in this case, literally were—minorities or people of color. The response has been loud and fierce, with a number of people mocking pictures showing the two men side-by-side.
G/O Media may get a commission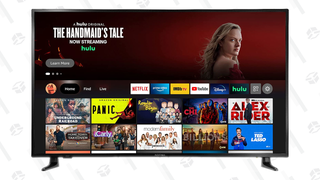 38% Off
Insignia 50" 4K UHD Smart TV