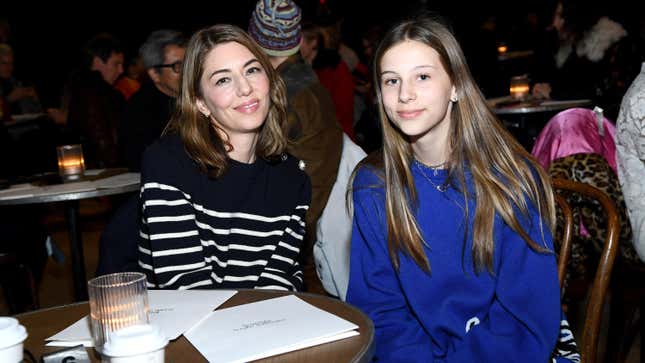 Daughter of filmmaker Sofia Coppola and Phoenix frontman Thomas Mars—and granddaughter of Francis Ford Coppola—Romy Mars is going viral. In a TikTok video shared to Twitter by user @savbrads, Romy shares that she's at home testing out her cooking skills for a particularly unusual reason.

Surprise, the Golden Globes have lined up some decent presenters
"Make a vodka sauce pasta with me because I'm grounded because I tried to charter a helicopter from New York to Maryland on my dad's credit card because I wanted to have dinner with my camp friend," the younger Mars says.
Going straight to a helicopter instead of, like, a really expensive Uber feels almost like marketing for the upcoming final season of Succession, but okay! Of course, filmmaking runs in the family, and nothing is going to stop her from getting behind the camera, even if it's actually the front-facing lens of her phone.
"My parents' biggest rule is like, I'm not allowed to have any public social media accounts. Here's why," she says, showing off her dad's Grammy for the 2009 album Wolfgang Amadeus Phoenix. "They don't want me to be a nepotism kid, but TikTok is not gonna make me famous, so it doesn't matter."
Spoiler alert: even without a public account, the video has still been viewed well over a million times, thanks to its uniquely chaotic energy. She admits that she had to Google pictures to tell the difference between onions and garlic, proceeding to chop up a shallot even though it didn't match her search results. (Nobody tell Alison Roman.) Later on, her babysitter's boyfriend Ari is charged with going out to get the right ingredients after weighing in on "the helicopter fiasco."
"My parents are never home, so these are my replacement parents," she jokes, grinning at the camera.
While they may not have been devoured by vampires, Coppola recently shot a Priscilla Presley biopic in Toronto, starring Cailee Spaeny and featuring Euphoria's Jacob Elordi as Elvis. Phoenix has been touring heavily after releasing its seventh album Alpha Zulu last year. While Mars' parents might have their own busy schedules, they've clearly spent enough quality time with family to pass on their respective affinities for filmmaking and blue shirts.