WrestleMania week is upon us, and for pro wrestling nerds, this is Valhalla. The A.V. Club will cover NXT TakeOver: Orlando and provide live coverage of WrestleMania 33 this weekend. But before those shows, our staff's two biggest wrestling enthusiasts—Matt Gerardi and Kevin Pang—chatted about the buildup to professional wrestling's biggest weekend of the year and what exactly WrestleMania means to them.
Kevin Pang: Matt, I'm always excited for the spectacle that is WrestleMania, but I have to say, I haven't been less excited about a card in years. None of the matches scream must-watch. How are you feeling about this show?
Matt Gerardi: I feel the same way. My lack of enthusiasm for this year's show is about on par with the last few Manias. You used that word "spectacle," and I think it's important to remember that that's really what WWE is going for with its biggest show of the year. This isn't necessarily about putting together the juiciest matches that wrestling nerds like us will fawn over. It's about the glitz, creating clips that WWE will play on TV for years to come. And with that in mind, WrestleMania has become less of a wrestling show I'm interested in for the minute-by-minute action of the matches than it is this curio where I'm most interested in seeing things play out because I have no idea what's going to happen. And this year's card has plenty of those uncertainties.
KP: No match on this weekend could match the anticipation of Nakamura vs. Zayn from last year. But if I had to pick three, the Neville vs. Aries match might be the most exciting from a technical wrestling standpoint. I'm interested in Reigns vs. Undertaker mainly for the storyline and the direction of Roman Reigns' character. And I think the Andrade "Cien" Almas vs. Aleister Black (the former Tommy End) could be the surprise match of the weekend. Any you're looking forward to?
G/O Media may get a commission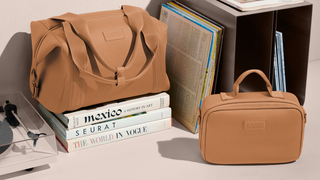 15% off
Dagne Dover Travel Kits
MG: If we're looking at the whole weekend of WWE offerings, I think the TakeOver card is actually pretty promising. I love Aleister Black, and I can't wait to see him kick some heads in NXT, but man, you know that Tag Team Championship match between DIY, The Revival, and The Authors Of Pain could be something special. I'm still not hot on The Authors, but they understand their parts well enough, and I have no doubt those other teams will be able to work with them to turn out a great match. On WrestleMania, I'm in the same boat as you. Neville vs. Aries is both the best-sounding match, from a purely in-ring perspective, and one of the most effectively built matches on the show, owing to stellar character work from both guys. And yes, Roman Reigns' continued evolution (or lack thereof) is one of the more interesting bullet points in this show. I want him to beat The Undertaker and turn heel, but something tells me he'll be getting a nod of approval from Taker. You know, just one more massive attempt at getting the crowd to like this guy.
Neither of us have mentioned Goldberg vs. Brock Lesnar, ostensibly the biggest match on the show. What's your take there?
KP: That's the big question. I'm presuming this match will go on last. (Update: Dave Meltzer reported on Wrestling Observer radio Friday that Roman Reigns and The Undertaker are expected to close out the show.) And I think based on everything reported, with this being Goldberg's last match and Lesnar's contract going through WrestleMania 2018, I don't see any other outcome besides Lesnar hoisting the belt high at the end of the show. I remember the big concern during Lesnar/Goldberg Pt. 1 during Survivor Series 2016 (well, Lesnar/Goldberg Pt. II, if we don't forget their disastrous WrestleMania XX meeting) was how long Goldberg could hang in the ring, that for a guy who hasn't wrestled for nearly 15 years, that anything longer than 12 minutes would be a train wreck. Well, we got the answer: 90 seconds, and that was one helluva booking decision. Their second encounter at Royal Rumble 2017 was even quicker. So I don't see a quick finish here, unless it's Brock F-5'ing Goldberg in a quick-squash reciprocation. More likely, it'll be a legitimate 10-minute-plus main event, with rest holds, trading offense, suplexes—you know, an honest-to-goodness wrestling match. I just hope it doesn't turn into a spectacle of the negative kind.
How do you see this match playing out? How do you see Brock moving forward?
MG: God, I hope it isn't an actual 10-minute (or more) match. Unless Goldberg really is hiding some sort of amazing stamina and wrestling ability that he's built up over the last couple months, I can only see that ending in, maybe not disaster, but something incredibly boring. Maybe they play off the past encounters between these two and have it look like Goldberg is going to beat Brock in seconds, only for Lesnar to kick out or counter at the last minute and pull off a squash of his own? That might at least get them across the two-minute mark.
But like you said, I really can't see this show ending and Brock Lesnar not being Universal Champion. As for what happens next with that belt? Well, I honestly hope he's able to give it some of the mystique he captured earlier in this run after he decimated John Cena and only showed up occasionally until Seth Rollins stole the belt at WrestleMania 31. That run may have been unusual, but it gave both him and the title a special aura. The only problem is, if that's the direction WWE takes, I'd bet we're just in another loop leading to Roman Reigns vs. Brock Lesnar, so Reigns can finally get that win over Lesnar that was ripped from his hands.
KP: Yeah, Dave Meltzer reports the proposed main event for next year's Wrestlemania is Reigns vs. Lesnar. So there you go.
MG: I'll tell you what other match I'm very curious to see: AJ Styles vs. Shane McMahon. Like a lot of people, I'm a little disappointed that one of the best wrestlers in the world has been shoved into a feud with a McMahon, but if anyone can make chicken salad out of chicken shit, it's Styles. The one really concerning thing, and something they even mentioned on SmackDown this week, is that this apparently won't be some sort of no-disqualification match. It's still scheduled to be a regular old wrestling match—where one of the competitors is Shane freakin' McMahon. That's baffling.
KP: I'm of two minds about this. As a wrestling fan, the only reason to watch Shane McMahon is to see what crazy stunt he'll pull off at Wrestlemania. He's a one-high spot guy. So to see AJ Styles have a wrestling match against the vice chairman of a Chinese on-demand video service isn't particularly inspiring. On the other hand, if it means McMahon won't top himself with something more extreme than a 20-foot leap off a Hell In The Cell (there's a roller coaster built into the Wrestlemania stage), then I'm all for that.
I thought a better AJ Styles opponent would've been Shinsuke Nakamura, reprising their incredible 2016 Tokyo Dome match. As the resident New Japan fanatic, Matt, how do you feel about Nakamura's booking over this past year, and how do you see him moving forward? Sad to say, I feel Nakamura has lost a lot of his luster.
MG: I'm on record, on this very website, as saying Nakamura's NXT stint has been pretty disappointing. It's basically been one amazing match (against Zayn, of course) and then a bunch of the same ole shtick. That's kind of the guy's MO, though, even when he was in New Japan. He'd be amazing in a handful of matches per year and skate by for the rest. That's not to say all those other performances were bad. He's a great wrestler, but he'll often give you just enough to keep you happy. He showed signs of life during his loss to Bobby Roode, though, so hopefully things are getting better.
As for what happens to him next, I really don't know. I have to imagine positioning this rematch as one of the biggest TakeOvers of the year is a set up to give Nakamura another big crowning moment, because you know if he wins back the title at this show, the place is going to explode. If that's the case, I'd bet he holds onto the belt until TakeOver Brooklyn, where the main event is Nakamura versus Kassius Ohno (formerly Chris Hero). I need that in my life, Kevin. I really do.
If that happens, though, that would mean Nakamura's chances of making it to the main roster anytime soon are way lower. (He could pull a Kevin Owens and do a bit of double duty.) If he's not making the leap after Mania, do you have any picks in his stead? Do you think any NXTers are about to be called up?
KP: Well, Elias Samson just lost a "Loser Leaves NXT" match against Ohno, which means he'll be debuting on the main roster soon. I actually like the idea of him drawing massive heat—maybe they can pair him and Eva Marie together. Because the SmackDown side so desperately needs heel tag teams, I can absolutely see The Revival not being involved in the finish of the tag championship match this weekend and heading to the main roster on Tuesday.
But here's what I'd really like to see: If Paul Levesque really considers NXT as a third WWE brand (and since he's apprehensive calling it a "farm system"), why can't they draft main roster talents to NXT? They sort of did that to Zack Ryder (teaming with Mojo Rawley) to restart his career. But guys like Tyler Breeze would immediately be a main event player in NXT if he's brought back for a year. Someone like Dolph Ziggler could use a career Ctrl-Alt-Delete in NXT as well. Don't think that'll actually happen, but it could make for intriguing television and matchups.
MG: You're right, and I don't really see why that doesn't happen more often beyond the silly connotation of it being a "demotion." It would be a huge help to a lot of the wrestlers. Although, while it's tempting to say NXT could use the fresh blood to liven those shows up a bit, there always seems to be plenty more coming down the pike.
We'd be remiss if we didn't mention the women's matches at this year's WrestleMania. I think they'll turn out fine, but I do have a bone to pick here, and I'm curious about your thoughts on it. For a company that keeps cravenly promoting its "women's revolution" and has otherwise done a pretty good job of rebuilding that division to be respectable and actually about wrestling, I find it disappointing that they can't be bothered to put together a singles match for either of the Women's Championships on this six-hour monstrosity of a show. The last time that happened was 2005, unless you count the lumberjack match between Melina and Ashley in 2007, but that's just another one of these, "Let's trot everybody out for a big clusterfuck" scenarios. I have no doubt the four-way for the Raw Women's Championship will deliver, but why can't women get a singles match of their own? Even the damn Intercontinental title is being defended in a singles match this year.
KP: I echo everything you say about the disappointment of cramming the women's roster onto two multiperformer matches, and the feeling that there can't be more than two women's matches on any WrestleMania and only if the title is on the line. But there's a larger point, and it's the big flaw of WrestleMania—this idea that you have to shoehorn every performer into the show. The fact that American Alpha has been reduced to appearing in the Battle Royale (and that the SmackDown titles are seen as inferior championships). That Finn Balor, who's been wrestling on the Raw house shows, isn't even advertised for Mania. That Samoa Joe isn't in a match (though probably involved in the Triple H-Seth Rollins bout).
This all goes to a question you brought up at the beginning, Matt: Is WrestleMania really for us hardcore wrestling geeks? The ones who crave to see five-star matches? Or are we not the target demographic? Is its audience the casual viewers who'd rather see John Cena propose to Nikki Bella at the end of their mixed tag match? Is it for people who wanna watch Pitbull perform?
MG: No, I don't think it is for the hardest of the hardcore, but I wouldn't go so far as to say it's for people who just want to see Pitbull. I think WrestleMania is somewhere in between right now. It's more for fans who maybe haven't been keeping up with the shows from week to week or just tune in to WrestleMania and get their fill of pro wrestling until the big one comes around again. I have to think that for those viewers, there is a thrill to seeing Lesnar vs. Goldberg or old standbys like Triple H and The Undertaker. And that's perfectly fine. This year's annoying nickname for Mania is "The Ultimate Thrillride," and that's really what WWE wants it to be. Nothing more, nothing less.
KP: As a business decision, that might be a smart strategy—focus on as broad of an audience as possible. (Even though that there's considerable evidence that the majority of WWE watchers are late 30s and early 40s, the hardcores who grew up during the Attitude Era.)
Shall we go out on a limb and make some bold predictions? I'm gonna go with Anderson/Gallows retaining the Raw tag titles in the ladder match, but then Jeff and Matt Hardy jump them as the crowd chants "Delete! Delete!"
MG: It's smart business, for sure, and you can't deny that. It just means a lot of conversations about these shows start off with mentioning how we're shockingly unexcited, which is a bummer.
And having said that, here's my prediction: Elias Samson is revealed to be the latest member of the Wyatt Family. He will be Bray's personal troubadour, accompanying his songs with evil guitar playing.