It's a watershed year for the Primetime Emmy Awards: For the first time since the early '00s, HBO does not boast the lion's share of nominations. Not that it went overlooked: Though the pay-cable channel's 108 nominations fell short of Netflix's 112, it still has the most-nominated program, with Game Of Thrones hoarding a healthy 22 nods in the catacombs beneath King's Landing. But it wasn't enough to hold back the streaming upstart, which earned the TV Academy's notice not only with Emmy workhorses like The Crown and Unbreakable Kimmy Schmidt, but also newcomers GLOW, Ozark (ugh), and American Vandal (yay!)—the last of which is slugging it out against a wild Outstanding Writing For A Limited Series, Movie, or Dramatic Special field that also includes The Assassination Of Gianni Versace: American Crime Story, the fake Star Trek episode of Black Mirror, and Twin Peaks: The Return.

The revival of David Lynch and Mark Frost's groundbreaking supernatural mystery notched a total of nine nominations, with Lynch being recognized in Outstanding Directing for a Limited Series, Movie or Dramatic Special. But it missed out on the most high-profile races, sending a piercing scream of horror and dismay across social media. Adding to that anguished din, here's a quick rundown of this year's most painful snubs—and a few pleasant surprises to balance things out.
Snub: Kyle MacLachlan, Twin Peaks: The Return
This isn't just one stellar performance going overlooked—it's three, one of which completely inverted MacLachlan's decades-long tenure as Lynch's go-to symbol of honor and valor in a chaotic universe. Mr. C. was the snarling menace The Return needed in the absence of the late Frank Silva, but it was MacLachlan's embodiment of hapless, childlike Dougie Jones that took the sting out of the wait for FBI Special Agent Dale Cooper's encore. The Emmys finally got around to awarding Tatiana Maslany's multi-pronged Orphan Black performance in 2016 (a final nomination for which she received today), and if you can't see the Swiss Army ingenuity that's also present in Kyle MacLachlan's Twin Peaks: The Return turn, I have just one word for you: "Hello-oh-ohh."

Surprise: Twin Peaks: The Return, Part 8
G/O Media may get a commission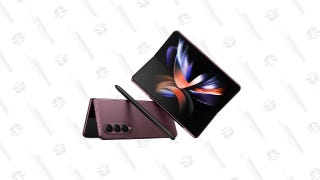 Save Up to $300
Galaxy Z Fold4
Twin Peaks missed it's chance at the big prizes, but its single most mind-bending hour made inroads in the technical categories, with Outstanding Cinematography, Single-Camera Picture Editing, and Sound Editing and Mixing nominations. They say the key to understanding The Return is listening to it, and there's a whole war between elemental good and evil to be heard in the miniseries' eighth part.

Snub: Rita Moreno, One Day At A Time
Moreno doesn't need an Emmy: She already has an EGOT, becoming the third person to hit the showbiz award grand slam when she clapped Animal's head between a pair of cymbals on The Muppet Show. But she's an undeniable force of nature as Lydia on One Day At A Time, expertly pirouetting between slapstick and poignancy in meaty season-two storylines about citizenship, hoarding, and near-death experience.
Surprise and snub in one: The Killing Eve leads
Sandra Oh's Outstanding Lead Actress in a Drama Series nomination for Killing Eve is a well-earned (and historic) recognition of a talent that was long under-served by second fiddle roles. (Albeit ones she was Emmy-nominated in, but I digress…) But it does feel a little less sweet when it's not accompanied by a nomination for the decadent-and-infatuated pink tulle to Oh's practical-and-resolved anorak: Jodie Comer as the assassin Villanelle. Maybe next year, when there's one fewer stylish Russian killer to contend with.

Another long overdue nomination: Thompson's spent most of his life doing sketch comedy on TV, and he's provided the unpredictable, gleefully silly glue during years when SNL has had an intense spotlight pointed at it. He's never been the show's biggest star, but he has been one of its most dependable, whether he's anchoring a bit of viral social commentary like Black Jeopardy or donning Jean Valjean garb to play a singing lobster in a restaurant that should not have lobster on the menu.
What is with Outstanding Limited Series this year? At least The Assassination Of Gianni Versace won't have much difficulty making it two-for-two for the American Crime Story franchise. And it won't have to go through the frozen-over Northwest Passage of The Terror, David Kajganich and Soo Hugh's ends-of-the-earth horror series, to do so. The period setting, distinguished cast, and AMC pedigree had all the makings of a shoo-in—the fact that it's one of 2018's best shows didn't hurt, either. And this is a category where American Horror Story was once a mainstay, so you can't really blame it on genre bias. Whatever happened, the men of The Terror wound up stranded all over again.

Surprise: At Home With Amy Sedaris
Nearly 20 years after the premiere of Strangers With Candy, Amy Sedaris' first Emmy nomination comes via her kooky parody of lifestyle programming. Sedaris' evolution into a stoner Martha Stewart is the best vessel for her sensibility since Jerri Blank, with At Home providing her a space to chase her surrealist whims in kitschy surroundings while pursuing her honest-to-goodness passion for playing hostess. It's entertaining and informative—and isn't that exactly the type of thing the Television Academy was designed to celebrate?
Snub: The Good Place
I'm just going to keep harping on this until The Good Place winds up in the Outstanding Comedy Series running. Ted Danson's being acknowledged for his layered, hilarious performance as demon-made-good Michael, but this is a show full of great performances and ambitious writing, and it's the rare comedy that's a treat for the eyes, too. You can't go wrong with any of the nominees for Outstanding Writing for a Comedy Series—except for the fact that the fiendishly fleet and devilishly inventive "Dance Dance Resolution" isn't among them. All those reboots deserved some editing love, too.