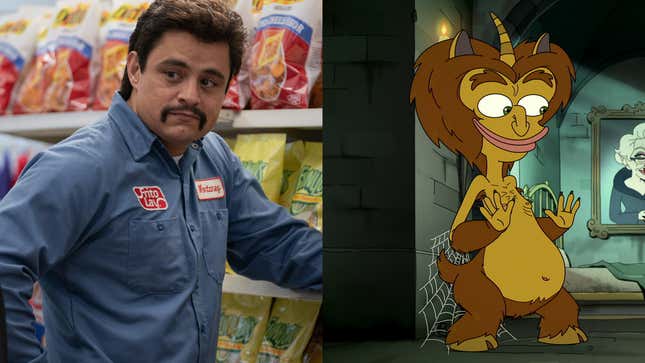 Welcome to the weekend edition of What's On. Here are the big things happening on TV from Friday, June 9, to Sunday, June 11. All times are Eastern. [Note: The weekly What's On will publish on Sundays.]

Netflix plans to make you freeloaders finally cough up the dough
---
1. Get the movie snacks out for Flamin' Hot
Hulu, Friday, 12:01 a.m.: Eva Longoria helms Flamin' Hot, a semi-biographical dramedy that stars Jesse Garcia as a Frito-Lay janitor who claimed to have invented the, yes, Flamin' Hot Cheetos. Dennis Haysbert, Tony Shalhoub, and Annie Gonzalez co-star. The movie premieres on Hulu and Disney+, and while you figure out what junk food should next get the big-screen treatment, check out The A.V. Club's review.
---
2. Human Resources ends with its sophomore season
Netflix, Friday, 3:01 a.m.: Say hello to Human Resources season two in the same breath you bid it farewell. The Big Mouth spin-off is closing its door after this run of eps. HR is a fun animated workplace comedy set in the world of the hormone monsters who guide the helpless humans in the original. The voice cast includes Nick Kroll, Maya Rudolph, Keke Palmer, Randall Park, Pamela Adlon, David Thewlis, Maria Bamford, and Hugh Jackman. But hey, at least Big Mouth is returning soon for another (also final) season.
---
3. The Tony Awards are here
CBS, Sunday, 8 p.m.: It looked like this year's Tony Awards weren't going to happen due to the Writers Guild of America strike, but the WGA agreed not to picket the awards because the show's producers made changes that support the scribes. (See, it can be done.) The 2023 Tonys will be hosted by Ariana DeBose (TBD on whether she'll rap) and honor the best Broadway musicals.
---
4. The Crowded Room is here to appease Tom Holland fans
Apple TV+, Friday, 12:01 a.m.: If there's one thing Apple TV+ can do for a TV show, it's gather an impressive roster of actors—in this case, Tom Holland, Amanda Seyfried, Emmy Rossum, Sasha Lane, Emma Laird, and Christopher Abbott. (See also: Extrapolations.) The psychological thriller, inspired by Daniel Keyes' The Minds Of Billy Milligan, features Holland as Danny Sullivan, who is arrested for a shocking crime he may or may not have committed. Here's a bit from The A.V. Club's review:
Despite the talent surrounding him, a show like this needs an almost transcendent anchor, and Tom Holland is mostly just…there. While the Spider-Man: No Way Home star can deliver, and it's always nice to see A-listers who came up through the Marvel pipeline try to de-corporatize their image, he doesn't quite have the chops to make the character into anyone the memory-gapped Danny himself would remember for more than a day. 
---
5. Bloodhounds adds to Netflix's K-drama lineup
Netflix, Friday, 3:01 a.m.: Based on the Sanyanggaedeu webcomic, Netflix's latest South Korean drama, Bloodhounds, follows a promising boxer who begins working for a loan shark to save his debt-ridden mother. Naturally, the two get entangled in suspenseful mysteries that put his life at risk.
---
6. You can finally enjoy Nic Cage as Dracula from home
Peacock, Friday, 3:01 a.m.: Chris McKay's horror comedy Renfield, released in April of this year, is making its way into your living room. The film centers on the long-suffering misery of Nicholas Hoult's Renfield, Dracula's (Nicolas Cage) loyal servant. And whatever you think of the movie's quality, no one can deny its inspired casting. Check out The A.V. Club's review.