Pop culture can be as forbidding as it is inviting, particularly in areas that invite geeky obsession: The more devotion a genre or series or subculture inspires, the easier it is for the uninitiated to feel like they're on the outside looking in. But geeks aren't born; they're made. And sometimes it only takes the right starting point to bring newbies into various intimidatingly vast obsessions. Gateways To Geekery is our regular attempt to help those who want to be enthralled, but aren't sure where to start. Want advice? Suggest future Gateways To Geekery topics by emailing gateways@theonion.com.

Geek obsession: Gram Parsons
Why it's daunting: Gram Parsons has a decidedly mixed reputation as a country artist for people who don't like country music. With his pouty, androgynous good looks, privileged background, inveterate hipness, folkie past, and rock-star pals, Parsons defied the stereotype of country singers as backward hillbillies, but there was nothing ironic or post-modern about Parsons' approach to country, especially as a solo artist. Parsons wasn't goofing on country or subverting its conventions; he genuinely loved the genre, its hardscrabble roots, and working-class soul. Parsons worshipped unabashedly at the altar of George Jones and Merle Haggard, even if the country establishment had no use for him. In his lifetime, Parsons was stuck between worlds. He was too country for hippies and the Sunset Strip cool kids, but way too hippie and rock 'n' roll for the country crowd.
Parsons was born to wealth and privilege (he was the scion of one of Florida's biggest citrus dynasties), hung out with Keith Richards and The Rolling Stones during the making of Exile On Main St., discovered the beautiful and gifted Emmylou Harris, and steered The Byrds, one of the most popular rock bands into the world, into a radically new direction on the seminal country-rock masterpiece Sweetheart Of The Rodeo. Yet he died of a morphine overdose at 26 as a relative unknown, in spite of having made four classic, influential albums over the course of his brief but glorious career, both as a solo artist and a member of The Byrds and the Flying Burrito Brothers.
But Parsons' legend has flourished posthumously. Though a non-entity commercially over the course of his lifetime, Parsons inspired a generation of artists in multiple genres and became the preeminent martyr of the alt-country movement. He is a quintessential cult artist, relatively forgotten in his lifetime, yet a pioneer and creative giant in death.
G/O Media may get a commission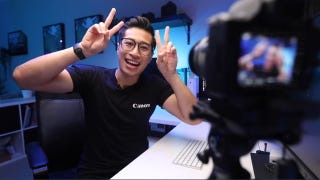 Up to 33% off
Canon Camera National Promotion
Webcam kits, lenses, & more
Since many of us adopted working from home, we've become accustomed to the crappy video quality output of our laptops' built-in webcams. Present yourself professionally with the help of a professional quality camera. Dress to impress now means set dressing and picture definition. Canon has made it easy to take your EOS camera and convert it to a webcam with the help of a variety of kits.
Possible Gateway: 1974's Grievous Angel
Why: Part of what made Parsons' death so tragic was that he was in such a good groove creatively. 1974's posthumous release Grievous Angel registers as both Parsons' swan song and his magnum opus. Like GP, his masterful solo debut from the year before, Grievous Angel trades in the shaggy hippie-country sound and rough edges of the Flying Burrito Brothers for a newfangled purity and precision.
Much of that purity and precision can be attributed to the über-professionals Parsons hired as collaborators. For Grievous Angel, Parsons once again hired the core of Elvis Presley's "TCB Band," namely guitarist James Burton, pianist Glen D. Hardin, and drummer Ronnie Tutt, whose understated but virtuoso playing serves the songs without overpowering Parsons' exquisitely fragile vocals or calling attention to themselves. But Grievous Angel wouldn't be the masterpiece it is without the vocals of Emmylou Harris, whose tight harmonies play such a central role on the album that Parsons originally wanted it credited equally to himself and Harris, a plan Parsons' widow, Gretchen (who was none too fond of the bond her husband shared with his beautiful protégé), vetoed.
Grievous Angel was cobbled together from old songs Parsons had lying around, some covers (Tom T. Hall's "I Can't Dance," The Louvin Brothers' "Cash On The Barrelhead," which Parsons fused with his own "Hickory Wind," "Hearts On Fire," and Boudleaux Bryant's "Love Hurts"), and a pair of quickly conceived new songs ("In My Hour Of Darkness" and "Return Of The Grievous Angel"). Yet the album boasts a cohesion and fluidity that belies the ramshackle manner in which it was assembled.
"Return Of The Grievous Angel," which Parsons adapted from a poem by Thomas Brown, is a bittersweet love song about the open road that is dense with surrealistic imagery, a song of swooning romanticism and playful sincerity that establishes a hypnotically dreamy mood.
Parsons wrote "Brass Buttons" while still a collegiate folk singer. It's jazzier than anything he recorded before, but its hushed intimacy and offhandedly poetic lyrics fit the album perfectly, as does the high-lonesome heartbreak of the intriguingly enigmatic "$1000 Wedding" and "Love Hurts."
Grievous Angel closes on a hauntingly ironic note with "In My Hour Of Darkness," an elegiac ballad in which Parsons eulogizes actor Brandon DeWilde, musician Clarence White, and a drug buddy named Sid Kaiser. But—as noted in the Nashville Or Bust piece on Parsons—what makes the song so unnerving and prescient is that Parsons really seems to be eulogizing himself when he sings of White, "Another young man safely strummed his silver-stringed guitar / And he played to people everywhere / Some say he was a star / But he was just a country boy / His simple songs confess / And the music he had in him, so very few possess." "In My Hour Of Darkness" was the last song Parsons ever wrote or recorded; it's as if he was prophesying his own death and mourning his wasted potential.
Next Steps: When pursuing Parsons' rich if brief oeuvre, it makes sense to work backward from the end, Memento-style. 1973's GP is nearly as strong as Grievous Angel; it's more consistent, but its highs never quite reach the level of "Brass Buttons," "In My Hour Of Darkness," or "Return Of The Grievous Angel." The album also introduced to the world the young Harris, whose angelic vocals and heartrending beauty perfectly complement Parsons' shaggy charisma and baby-demon charm.
GP posits Parsons and Harris as the George Jones and Tammy Wynette of what Parsons lovingly called "Cosmic American Music," musical soulmates whose uncanny chemistry pushed each other to new heights. Parsons and Harris' heavenly harmonies lend lushness and depth to tales of heartache, loss, and regret like "We'll Sweep Out The Ashes In The Morning" and "Kiss The Children."
On GP, Parsons delivers a heartrendingly vulnerable take on "Streets Of Baltimore," a quintessential morality tale about a small-town man who loses the love of his life to the bright lights and glamour of the big city. It's one of Parsons' signature songs; ironically, it was written by Tompall Glaser, who famously threatened to kick Parsons' ass after The Byrds infuriated the folks at the Grand Ol' Opry by performing Parsons' own "Hickory Wind" instead of Merle Haggard's "Life In Prison," the song they were scheduled to sing.
Like Grievous Angel, GP ends strongly with "How Much I've Lied," a trembling, earnest ballad that closes the album on a note of self-lacerating introspection. Yet even while luxuriating in self-loathing, Parsons' expressive voice betrays an unmistakable tenderness. GP got Parsons' solo career off to a remarkable start; who could have imagined the end of Parsons' life and career loomed so devastatingly near?
Parsons was reportedly hired by The Byrds to play jazz piano for a tour and dodgy-sounding concept album about the history of music, but Parsons was too strong-willed, charismatic, and talented to be relegated to a sideman role, even in a popular and influential band filled with outsized personalities with egos to match. He quickly steered The Byrds into an unmistakably country direction. He was strong and ambitious enough to sign on for a supporting role with a musical powerhouse, then recreate it in his own iconoclastic image. With Parsons onboard, the history-of-American-music concept album was soon scratched for an album of classic country covers (as well as two Bob Dylan covers and two Parsons originals), recorded in Nashville with the help of a battery of accomplished session players for a project eventually titled Sweetheart Of The Rodeo.
"You Ain't Goin' Nowhere" opens the album with a perfect fusion of The Byrds' folk-rock synthesis and abiding affection for the music of Bob Dylan—who wrote their signature hit "Mr. Tambourine Man"—with the newfangled country-rock of their flashy new recruit.
A sweeping, panoramic journey through the history of American roots music follows. The Byrds might have jettisoned the notion of a concept album chronicling the history of American music, but something of that insanely ambitious conceit remains in Sweetheart Of The Rodeo. It takes listeners from the traditional gospel of "I Am A Pilgrim" to the Christian bluegrass of The Louvin Brothers' "The Christian Life" on through the politically charged Socialist storytelling of Woody Guthrie (a bluegrass take on "Pretty Boy Floyd") and the jailhouse country-blues of Merle Haggard ("Life In Prison"). Sweetheart Of The Rodeo begins and ends with inspired nods to The Byrds' folk past with the book-ended Bob Dylan covers "You Ain't Goin' Nowhere" and "Nothing Was Delivered." It's telling that the album's only two originals are by Parsons: the gorgeous, Southern-fried nostalgia of "Hickory Wind" and the trippy "One Hundred Years From Now."
The Byrds parted ways with Parsons even before Sweetheart Of The Rodeo bombed spectacularly. In true Parsons tradition, Sweetheart Of The Rodeo's brilliance and significance would only become apparent following his death. Intentionally or otherwise, Sweetheart Of The Rodeo is an album about musical evolution; the group couldn't have realized that the eccentric fellow it originally hired to play jazz piano was himself a crucial step in that evolution.
After his brief but fruitful adventures with The Byrds came to a close, Parsons joined forces with fellow Byrd exile Chris Hillman, along with bassist Chris Etheridge and steel guitarist Sneaky Pete Kleinow, to form the Flying Burrito Brothers. The supergroup's 1969 debut, The Gilded Palace Of Sin, would go on to define the sound and attitude of country-rock, a vital, vibrant approach that mixed reverence with irreverence and countercultural brattiness with an unironic appreciation for the fire-and-brimstone morality coursing through so much classic country.
It's a testament to Parsons' complete indifference to commercial viability that he gave one of the most beautiful and seemingly commercial songs on The Gilded Palace Of Sin the title "Hot Burrito #1," a ridiculously inappropriate title for a devastatingly pretty ballad of soul-shaking devotion. Sure enough, when Parsons super-fan Elvis Costello covered the song on his album of country covers, he gave it the more fitting title "I'm Your Toy."
The Gilded Palace Of Sin is full of rough edges and weird larks, like the album-closing spoken-word piece "Hippie Boy," but its shagginess proves much of its charm. As the architect of Cosmic American Music, Parsons was all about blurring the lines between country, folk, soul, bluegrass, and rock. Messiness was an inherent part of Parsons' early aesthetic, and Gilded Palace lurches purposefully to a place of sublime grace.
Where not to start: If The Gilded Palace Of Sin lurches to a place of sublime grace, its follow-up, Burrito Deluxe, mostly just stumbles. By the time of its release, Parsons was increasingly estranged from Chris Hillman, whose harmonizing with Parsons helped make Gilded Palace such a country-rock touchstone. Parsons' mounting disinterest in the band is reflected by the fact that he has songwriting credits on only a pair of tracks, the appropriately named "Lazy Days" and "High Fashion Queen." Still, Parsons had a gift for closing strong, and Burrito Deluxe is no exception. The album closes with a poignant version of "Wild Horses" that was released a full year before The Rolling Stones had a hit with it. Unfortunately for the Flying Burrito Brothers, the song was indicative of the fact that Parsons was less interested in continuing on with the band than in partying and using drugs with his buddy Keith Richards. Parsons' muse was both reckless and restless, and by Burrito Deluxe, it was already pulling him in a new direction, one that excluded the Flying Burrito Brothers.
Before he was a Byrd, a Flying Burrito Brother, or an acclaimed solo artist, a 21-year-old Parsons helped create the blueprint for country-rock as the frontman for International Submarine Band, a short-lived group whose debut, 1968's Safe At Home (released on Lee Hazlewood's LHI Records), is widely considered the first true country-rock album. Alas, the album is more notable for its promise than its actual achievement. As a singer and songwriter, Parsons was still afflicted with the callowness of youth. When Parsons sings a medley of "Folsom Prison Blues" and "That's All Right," he sounds like a little boy trying on his daddy's oversized clothing. Parsons' trembling, quaking, breaking voice simply does not possess the mixture of steely toughness and vulnerability "Folsom Prison Blues" requires. Even at an embryonic stage, Parsons was working toward something exhilaratingly new and unique; it just took several collaborators and a short amount of time for him to realize it.