Podmass comments and suggestions for future coverage can be directed to podmass@avclub.com
Podmass is taking the holiday off. We'll return on January 13.
QUOTES OF THE WEEK
"If your father didn't want to watch Tom Hanks get AIDS, he's not going to want to watch this guy." —Scott Aukerman's mom when he offered her a screener of Dallas Buyers Club, Doug Loves Movies.
"Eddie Murphy died of AIDS, which is what The Nutty Professor is about." —Moshe Kasher, Sklarbro County
"Thank you Doug, you are a vigilante of good taste." —Matt Besser, interviewing the Angry Trumpet Man, Improv4Humans
G/O Media may get a commission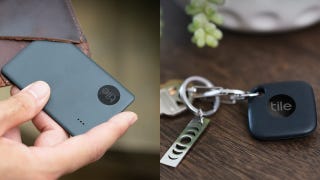 Up to 35% off
Tile Item Trackers
"There's particle physics, and then there's digging a big hole under a river." —Chuck Bryant explaining the engineering charm of underwater tunnels, Stuff You Should Know
"Give me one line of code that you wrote." "10011001." "That's not code. That's binary." "Binary code. You don't even know about computers, dude." —Kyle Dunnigan proving to David Huntsberger that he invented the iPhone, Professor Blastoff
"I'll tell you the truth: If aliens came and got me, I would join them and help attack the Earth. Just that quickly. Once I see a flying saucer coming over the Hollywood hills? I'll stab somebody." —Aaron Neville (Horatio Sanz), Comedy Bang! Bang!
"Did the two of you guys have a discussion before you came on the show about wanting to seem like the worst people in the world, or does that just come naturally to you?" —Bailiff Jesse Thorn, Judge John Hodgman
"Don't eat the licorice. They're actually erasers." —Paul "Jelloman" Vile cautions holiday partygoers on the dangers of his festive Jell-O shots, The Best Show On WFMU
"Every time I think I've hit the bedrock of my stupidity, something else comes along." —Bill Burr, after admitting that until recently he believed the Sistine Chapel was called the "Sixteen Chapel," Monday Morning Podcast
"If you're in love with somebody, you immediately build this amazing being out of what you think they are—it starts off like, 'Oh my God, this person couldn't be any more perfect for me.' And it's almost like a relationship is just the process of slowly chipping away at that until you're just standing face to face with a human, and you go, 'All right. Okay. So what happens now?'" —Marc Maron, WTF

"I just got off a plane and I'm so glad I remembered to blink 17 times so it wouldn't crash." —Listener James shares the upside of his obsessive-compulsive disorder, The Mental Illness Happy Hour
"You can watch Game Of Thrones while you're getting hep-C. You can watch The Big C while you're getting hep-C."
"Are you going to cut out the Game Of Thrones one so it seems like you got it on the first try?" —Chris Hardwick and Jonah Ray, riffing on cable at cheap motels, Nerdist
"When the Raiders are winning, it's like an invincible army. When they're losing, it's like a wounded animal that you're afraid of." —Randy and Jason Sklar on the Oakland Raiders' fanbase, Sklarbro Country
---
OUTLIERS
Gizmonic Institute Radio
Mystery Science Theater 3000 isn't for everyone. It takes a certain kind of patience to enjoy a show that is mostly a guy and his puppet friends cracking wise at shitty movies. But as any fan can tell you, there's much more to MST3K than just the riffing; each episode's skits are often unjustly overlooked. The folks behind Gizmonic Institute Radio will be the first to point out each episode's brilliance, with an enduring attention to detail. Seth and Jeff, the hosts, have been digging into each episode chronologically, and with an especially inventive twist. The chats are couched in a premise lovingly borrowed from MST3K—trapped by a mad scientist, the two are forced to watch every episode of MST3K, a task they obviously relish. Radio's writing doesn't match the show's comic wit, but it is an entertaining experiment that noticeably improves with each successive episode. "Lost Continent" is a good place to start, as is the more recent "Pod People." [MK]
Existential Parachute Pants: A 90's Pop Culture Podcast
With its bare-bones production value and apparent lack of preparation, you could say that Existential Parachute Pants is the grunge alternative to glossier '90s podcasts. But nobody's ever going to mistake amiable hosts Chris Morgan and Seth Macy with Kurt Cobain and Layne Staley. The pair comes into each episode with a decidedly nerdy sensibility and points of view that aren't always popular. (Morgan thinks Back To The Future III is the best in the trilogy.) Still, they provide a sort of everyman approach to the topics they cover. Although Morgan can't get past the lack of realism in the TGIF classic Dinosaurs, and all roads seem to lead back to The Simpsons, most episodes contain the kind of informative tidbits that would get you through at least the first round of Double Dare. [TK]
---
THE BEST
The Best Show On WFMU
A Four Loko-fueled holiday party in 2010 gave The Best Show its most notorious episode, when a giggly Tom Scharpling wandered away from the microphone during an unforgettably anarchic installment. The caffeinated alcoholic beverage returns for the program's penultimate episode, but this party is more cheerful than chaotic. It's a delightful entry that's still a touch boozy, while maintaining the fun, warmth, and nostalgia of a great Christmas get-together. The booziness is courtesy of Paul "Jelloman" Vile, who makes his in-studio debut with trays of Jell-O shots and an unholy beer-bong concoction he calls a "gerbil bomb." Vile's debauchery is balanced nicely by Aimee Mann and Ted Leo's live performance of a charming tearjerker about The Best Show. A studio full of revelers gives the episode a sense of communal joy that feels appropriate for the season and the late hour in the exceptional show's run. [TC]
Comedy Bang! Bang! #261: Nubile Agape: Kulap Vilaysack, Shelby Fero, Horatio Sanz
Kulap Vilaysack, co-host of Earwolf's Who Charted?, hasn't appeared Comedy Bang! Bang! in nearly four years (way back in episode 34), which is shocking considering she's married to Scott Aukerman and has her own podcast on his network. To put it in perspective, fellow guest Shelby Fero was only 16 years old the last time Vilaysack sat in on a CBB. Put the two of them together, and it's the giggliest episode of Comedy Bang! Bang! ever. Plenty of laughs come from comedy wunderkind Fero's age and inexperience—she doesn't know how to say "suffragette," she doesn't know that Howard Hughes has been dead for nearly 40 years, etc.—but plenty come from another great appearance by Horatio Sanz. Sanz's hot streak continues with his take on Aaron Neville, whose Kwanzaa song kills everyone in the room. Paul F. Tompkins described the episode as "absolutely delightful," and he's right. [KR]
Doug Loves Movies: Will Forte, Bob Odenkirk, Scott Aukerman, Chris Cubas
This is another well-curated panel put together by Doug Benson, featuring some highly praised actors and Scott Aukerman, who is a regular (and aggressive) addition to the year-end Leonard Maltin Game. Will Forte and Bob Odenkirk engage in a bit of mock mutual masturbation over their award nominations and critical acclaim. Benson has plenty of questions about Odenkirk's forthcoming Saul Goodman TV series and Odenkirk gracefully evades giving any real answers in his own artfully hilarious way. Also, it's not a December installment of Doug Loves Movies if there's not talk of what screeners the guests have received. [MS]
The Fogelnest Files #67: Baby Donut: Allison Wolfe
After devoting so much of his podcast to oral histories of punk, it was only a matter of time before Fogelnest got into it with someone from the riot grrrl movement. Allison Wolfe does an impressive job of describing what the scene in Olympia, Washington, was like when she was starting out with Bratmobile, especially considering that so many of the other musicians Fogelnest has had on the show seem to struggle with verbalizing their experiences. It's a solid listen, especially for people who don't know a lot about riot grrrl and the kinds of forces these women were working against. The only real knock against this episode is that while Wolfe has some entertaining stories to tell, Fogelnest seems to have some trouble getting his own thoughts on the movement into words. [AB]
Freakonomics: Are Gay Men Really Rich?
Are gay men more affluent than straight people in the United States? At first glance, the gay neighborhoods in major cities are all higher tax bracket ZIP codes, and gay men in pop culture are routinely well off. On this week's episode, Stephen Dubner and company examine this cultural assumption. In terms of the census, gay couples do earn more that straight ones (by about $20,000 a year), while lesbian couples earn less. But, data that we have about gay people is from those who are willing to discuss their sexual orientation. So anyone who's closeted, or uninterested in sharing such personal information, is missing. Even many people who are openly gay still will not reveal that information to a census-taker. Also, a study from the Williams Institute suggested that gay men are more likely to be living in poverty than observationally equivalent straight men. There's not enough data to confirm or deny the idea that gay men are more affluent, but the assumption should be given a more critical eye. [NC]
Hang Up And Listen: The "In The Conversation" Edition
Everyone can go through the five stages of grief on the way to acceptance and renewed optimism, but the reality is that the United States men's soccer team had a significantly rough draw for next year's World Cup in Brazil. The Americans will play Germany, Portugal, and Ghana in a group ripe with narratives to parse out over the next seven months. Roger Bennett joins the HUAL panel for an impassioned and comprehensive breakdown of how popular the game has become and how the tournament could shake out in glory or disaster for the United States. Plus, Matt Prater's 64-yard field goal in Denver gets the panel all hyped up about NFL kickers again, which is always a fun listen. [KM]
Improv4Humans #111: Six Inch Witch
Matt Besser is one of the era's unsung interviewers. His method is almost too simple, but he doesn't let his subjects trample or talk over him. This week, Besser produced another great episode of Improv4Humans, thanks to his back-to-back interviews with YouTube's Angry Trumpet Man and two folks from Topps, the trading-card company. Besser sensed that the trumpet guy's rage might have been justified, and invited him on-air to contextualize the video. Best of all, Besser draws out the important beats, and doesn't allow the trumpet guy to control the conversation. These conversations have a rare, unnerving energy that translated into ace scenes by I4H veterans Sean Conroy, Billy Merritt, and Paul Rust. If Besser decided to put more of an emphasis on interviewing strangers on-air, few would be right to complain. [MK]
Judge John Hodgman: Badgering The Waitress
Judge John Hodgman continues to make the world a better place, one podcast at a time. This week's case is as open-and-shut as a Hodgman hearing gets, but the court still gives it a half-hour of patient—nay, tolerant—deliberation. When defendant Max needs service in a restaurant, he needs it now, and he'll get it by any means necessary. Andy, his wingman, says Max's argument is sound in theory, but correctly cites "a tone issue" in his friend's indefensible, hazardous execution. Andy suspects—correctly, no doubt—that his oblivious, self-important friend's impatient, indelicate, "cringe-generating" behavior has led to assorted reprisals from aggravated waitstaffs, ranging from diminished service to violated food. Hodgman sets them straight, or at least tries. The court clears the docket with two cases, addressing an international couple's holiday travel dispute, then ruling on the proper way to convert LL Cool J's name into a abbreviation-based nickname. (This issue makes some sense in context.) [DXF]

The Mental Illness Happy Hour #145: Dr. David Lisak
Most of Paul Gilmartin's conversations on MIHH can be classified as either personal reflections or professional inquiries. This episode with Dr. David Lisak manages to combine both as the clinical and forensic psychologist shares his expertise as a mental-health-care provider and experience as a victim of sexual abuse as a child. It's an eye-opening discussion aided by Lisak's eloquence and easy conversational rapport with Gilmartin, who has examined his own sexual abuse throughout the show's run. During the 80-minute discussion, the psychologist talks about evaluating individuals who are charged with capital offenses and his struggle to resist the urge to blame himself for his childhood abuse. Like most MIHH installments, it's an occasionally heavy listen that helps shed necessary light on a difficult topic. [TC]
Monday Morning Podcast
Bill Burr's whirlwind European tour continues unabated and so too does the vigor ignited in last week's episode. In fact, as he's been traveling more he's also been getting more jet-lagged, which gives the episode an almost woozy feel—a welcome novelty for the Monday Morning Podcast. And, for the first time in a long while, he breaks the usual monotony of the advertising segments, not only by introducing a couple new sponsors, but also by completely losing it during an especially silly read about berries, inserting choice ad libs like "What the fuck am I selling?" and "Who the fuck is gonna buy this shit?" which serves as a tremendous cap on a solid episode. [CG]

Nerdist #451: Jordan Vogt-Roberts
Jordan Vogt-Roberts' chat with Chris Hardwick and Jonah Ray isn't necessarily the most focused, but it's full of the kind of jokey discussions Nerdist does well. The indie director is a lower-profile guest for the podcast, but his easy camaraderie with Hardwick and Ray—they're old friends—keeps the conversation enjoyable even for those unfamiliar with his work. Although Vogt-Roberts is promoting his feature directorial debut, Kings Of Summer, the trio spends more time talking about comedy and video games before the last third of the episode wanders into an interesting conversation about independent film vs. studio pictures. Vogt-Roberts really shines when he offers his thoughtful but unpretentious opinions on the film industry. With short films, web series, Funny Or Die videos, and now a feature film under his belt, Vogt-Roberts seems perched on the edge of greater success; this interview provides a nice entry point for those looking to learn more about the up-and-coming director. [CS]
Nerdist #452: Brendon Small
Brendon Small visits Nerdist with his guitar in hand for a half-interview/half-jam session that proves to be a delightful break from the show's usual talk-heavy focus. Small is a jack of all trades: writer, voice actor, comedian, creator of the animated series Home Movies and Metalocalypse, and front man for the fictional-turned-real metal band Dethklok. His guitar skills are front and center in this episode as he improvises transition music and performs a medley of go-to guitar-store riffs—from "Sweet Child O' Mine" to "Smoke On The Water." The highlight of the episode is the discussion of the Tron rock opera that Hardwick and Small wrote together years ago. The duo's impromptu performance of some of the show's score is sure to whet many appetites for the full 12-minute version that has yet to be recorded. [CS]

Never Not Funny #1322: Todd Glass
Todd Glass and Jimmy Pardo are birds of a feather in a lot of ways, from their sense of humor to their chronic neuroses/anxiety. That pretty much makes every Glass appearance on Never Not Funny worth a listen, and episode #1322 is no exception. There's some Curb Your Enthusiasm-level analysis of social mores, a bunch of funny anecdotes, and a repartee between Pardo and Glass that comes from being friends for so long. Unsurprisingly, it's a long one—nearly two and a half hours—but it's enjoyable from front to back. [KR]
Professor Blastoff #134: Regrets

Tig Notaro famously has much to be proud of—she faced down a year packed to the brim with grim hardships and came out the other side alive with a bestselling half-hour comedy special under her belt. This week she joins her co-hosts on the phone from her childhood bedroom in Texas, and the three of them—David Huntsberger especially—all but formally interview her about how such an intensely prideful time in her life affects her sense of regret. For Notaro fans especially, the conversation is another richly illuminating and inspiring glimpse at her life's narrative. For Blastronauts—and this might be a spoiler—the silly dissonance between her story and the further foibles of Kyle Dunnigan's Night Guy alter ego confirms this episode as essential listening. [NJ]
Sklarbro Country #81: Moshe Kasher, Jason Nash
Much like last week's County, this week finds Dan Van Kirk's stories taking a backseat to a guest with a big personality. Moshe Kasher's sense of humor is a tad bluer than the Sklars, but the gang gets along well enough to scrap together a solid few minutes about Sinbad before Van Kirk opens his bag of tricks. The only troubling thing about the commentary and Kasher's own story this week is the prevalence of jokes at the expense of the women being discussed. One of the stories—about a woman who assaults a man after he refuses to call her his girlfriend on a first date—leads to a riff that, while well-meaning, skirts misogyny with its reliance on "women are crazy" humor. Aside from that, though, it's a solid ride, even if the closing bit from Bruce Jenner isn't a home run. [AB]

Sklarbro Country #177: Blanket Of Semen: Horatio Sanz, Jesse Thorn
Saturday Night Live alum Horatio Sanz makes a stop along his recent podcast blitz to the sandy shores for a particularly relaxed visit with Randy and Jason Sklar. Both listeners who are in it for the sports chatter and the more sports-apathetic comedy crowd will be satisfied this week, because the Chicago-native Sanz mines both his Second City history and Bears and Bulls championship-era fanaticism for material. Jesse Thorn's segment about nativity fantasy team predictions exudes its usual gentle humor, but the brothers' takes on a Sonic pro-Chiefs marquee controversy and Benny the Bull's allegedly faux pas wedding proposal are worth a listen. [DJ]    
Stuff You Should Know: How HeLa Cells Work
In this episode, hosts Josh Clark and Chuck Bryant expertly tackle the complex case of Henrietta Lacks, a cervical cancer patient in Baltimore who in 1951 was discovered to have a singular tissue culture. Lacks' cells divided in a remarkable way that changed modern medicine's perspective on the mortality of human cells. The research was groundbreaking in ways that surpass even the medical quest of curing cancer. However, the tissue sample was taken without Lacks' permission, and after Lacks died, her family languished without health insurance and was not compensated for the ensuing research. This has sparked a decades-long debate over patient rights, the type of subject Clark and Bryant navigate deftly. Whether one wants to learn more about the medical miracles Lacks made possible or the subtle racism that may be at work in exploiting her, the story is compelling from start to finish. [DT]
Stuff You Should Know: How Underwater Tunnels Work
Since ancient times mankind has attempted to dig tunnels beneath large bodies of water, and hosts Josh Clark and Chuck Bryant have a great time sifting through the historical successes and failures in this particular corner of engineering. Clark and Bryant have prepared many examples of modern tunnels and have done their research on the three major techniques, but it's the hosts' references to The Great Escape and The Simpsons that will stop the average listener from feeling overwhelmed. The pressurized air used to burrow through soft soil is known as a tunneling shield, and though it is interesting to hear about this soft-soil technique when it comes to bedrock, the extended tangent about Die Hard and a "Hanksian Sidebar" about Cloud Atlas will keep listeners entertained. [DT]
The Todd Glass Show #131: Ian Karmel And Rob Gleeson
Todd Glass had such a good time with last week's guests Ian Karmel and Rob Gleeson that he decided to have them back. The decision worked out well, because the two have boundless energy and an affinity for the show's inherent silliness and haphazard format. Glass also continues his tradition of having his in-studio cronies read sincere letters to their mothers while on the air. Although this week's mom tears up at the heartfelt sentiment, the premise takes a comedic turn when Glass has his troubadour, Lynn Shore, convert the letter to song. Plus, the live band performing in the studio adds an extra element of delightful chaos. [MS]
WTF #450: Will Ferrell
The most famous guests Marc Maron brings on WTF also tend to be the most guarded, and Will Ferrell is no exception—there are no real significant revelations, or profound realizations to speak of in this episode, though the advice that Ferrell's father gave him when he was starting out might be useful to some. What he does share of his background is mildly interesting, but maybe the biggest takeaway from the interview is an implicit explanation for his massive and lasting success as an entertainer: Even when he's not actively trying to be funny—which he is not doing for pretty much the entire episode—he remains an immensely compelling presence, and that translates nearly as well to the podcast as it does to the film and television formats. [CG]
WTF #451: Yakov Smirnoff
Look, they can't all be interviews with Will Ferrell, okay? Marc Maron makes an interesting point early on when talking to Yakov Smirnoff that he's the only guest in the history of the show to be required to submit his material to the Soviet Ministry Of Jokes. Maron's interview with Eugene Mirman covered some of the same material, because Mirman's and his family emigrated from Russia, but Smirnoff offers a far more in-depth picture of what it was like to perform comedy in a communist country that heavily relied on censorship. It's not an uproarious episode, but it's informative and worldly in an unexpected way. [KM]
You Made It Weird: Mike Birbiglia Returns!
While portions of this week's interview with Mike Birbiglia seem blatantly promotional (Birbiglia is making the rounds for his new special), the majority of it feels much more grounded than any YMIW in recent memory. There's not any talk of the "cosmic joke," or how everyone is everything, and the podcast benefits from it, especially after last week's largely messy talk with Jon Gabrus. The level of intimacy between Pete Holmes and Birbiglia is clear, and not just because they talk about traveling together and turning to each other in times of need. Birbiglia gets confrontational in a way that only a good friend would, especially when the two start talking about Holmes' romantic history. As a result, the dynamics of this week's episode feel strangely reversed in a refreshing way. Even if this is how the two of them normally talk, it's a rare opportunity for Weirdos to see the host's back up against the wall for once. [AB]
---
THE REST
The Bugle #253: Lenin In A Dress
Beyond a great segment covering Boris Johnson, London's absurd mayor, this episode doesn't quite reach The Bugle's usual hilarious peaks. [MK]

How Was Your Week? #145: Death Fedora: Adam Conover
While the monologue is strong again this week (a bit about Candy Crush is especially worth tuning in for), the second half gives way to an overly long and unfocused interview that never really comes together. [DF]
The Moth: Jill Donnelly & Tim Manley: StorySLAM Favorites
Neither open mic winner is particularly substantial this week, but both are light and sentimental in all the right ways. [DJ]
Nerdist #449: Lindi Ortega
In this episode, Chris Hardwick sits down with a relative unknown country singer. Although this particular episode is a non-starter, we hope he continues the trend of interviewing emerging musicians in addition to the well-established ones. [MS]
Nerdist #450: Dick Costolo
It's fascinating that Dick Costolo, the current CEO of Twitter, started out as an improv comic, but the episode doesn't manage to create a particularly interesting conversation about comedy or social media. [CS]
Radiolab: Apocalyptical - Live From The Paramount In Seattle
Perhaps the Radiolab live show worked better with visuals intact, but the audio-only release is an overlong bore with too many interjections of, "If you could just see what was happening now" from the hosts. [MK]
The Smartest Man In The World: Flaps
Each topic washes away the others on this week's long Proopcast, which includes a fleeting impromptu rewrite of "Last Christmas," a longer musing on the holiday's psychedelic potential, and a recurring contrast of Alien and Pacific Rim—but like the passing references to Ted Nugent, Phil Lynott, and Bon Scott, the week's other subjects leave you wondering where they came from and where they went. [DXF]
Sound Opinions #419: The Best Albums Of 2013
Did you know Jim DeRogatis liked Savages' debut album this year? It's a fantastic record, as are many of the albums on his and Greg Kot's lists. But after hearing them talk for the past year about their favorite music, only a few surprises—Vic Mensa's Innanetape, or Wooden Shjips' Back To Land—keep this from being a total rehash. [KM]
Stuff You Missed In History Class: The Axman Of New Orleans, Part 1
Though the Axman Of New Orleans makes a fascinatingly dark tale, hosts Tracy V. Wilson and Holly Frey cannot seem to stop referencing his appearance on American Horror Story, to the point where listeners who don't watch the TV show may quickly lose interest. [DT]
Stuff You Missed In History Class: The Axman Of New Orleans, Part 2
Continued historical inconsistencies that blur the identity of the Axman killer, combined with the hosts' continued inside talk about American Horror Story, make the second part of this episode as difficult to engage as the first. [DT]
Who Charted? #158: Enjoy It!
For anyone who has ever hoped for an in-depth explanation of all the misery, pain, and insecurity Brody Stevens' eyebrows have caused him, this is the episode for you. [MS]