Have you ever parked your Honda Civic outside of the suffocating office building where you work for another day of monotonous, soul-crushing labor, only to realize that you hate everything about your life? Do you have days where you'd rather throw everything away and live in the woods like the kid from Into The Wild—even though he died—than go on for one more second? Well, an eBay user named oliver6332 has exactly what you need to revolutionize your miserable life: A movie theater on wheels.
Known as a Bedford Mobile Cinema, the handsome piece of machinery you see up above was (according to the eBay listing) created by the British government in the late '60s as a way to bring—we assume—Doctor Who episodes to people in the far corners of the British Empire. It has been fully restored in the last decade, can seat 22 people, and features a modern projector with Dolby surround sound system as well as a 16mm projector. If that doesn't make this thing sound sweet enough, the seller is also throwing in the vehicle's original trailer, which was most likely used to carry whatever weird food that British people like to eat while watching a movie. Also, the trailer has not been restored, so it does look like shit. The listing says it would "make a great project," though, so there's that.
Finally, as if this wonder of English ingenuity couldn't sound any better than it already does, it also happens to be the last mobile cinema in existence. Only seven were initially built, and since this thing is pretty stupid and ugly, nobody will ever make another one again. That means that if you're lucky enough to buy this mobile cinema, you can shape your entire life around taking care of it and ensuring that it outlives every son-of-a-bitch who mocked you for quitting your job to be a mobile cinema operator.
So, how much would you pay for this marvel? $10 million? $100 million? Well, slow down, because it'll only cost you about $180,000. You'd be crazy not to buy it at that price!
G/O Media may get a commission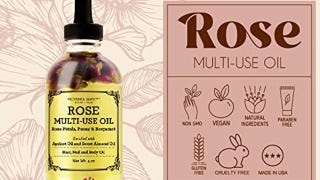 Provence Beauty Rose Multi-Use Oil