FX and its affiliated networks have announced that they're no longer in the Louis CK business. The network—which said yesterday that its relationship with the TV producer, actor, and stand-up was still "under review," in light of a New York Times piece in which multiple women accused him of masturbating in front of him—has now released a statement cutting all ties with CK.
The news comes after CK admitted his actions earlier today, issuing a statement stating that "These stories are true." FX's statement makes it clear that the network is fully severing CK's production deal, and states that he'll no longer receive any compensation for his roles in the four shows he currently has under the FX banner: Baskets, One Mississippi, Better Things, and the upcoming series The Cops. (Needless to say, the long-rumored prospect of a new season of CK's celebrated series Louie is dead, too.)
FX wasn't the only entity to end its association with CK today; his publicist, Lewis Kay, also announced that he was no longer representing him:
FX's statement says it was entirely unaware of the allegations against CK, despite their status as an open secret in the comedy world for more than five years. You can read the network's full statement below:
Today, FX Networks and FX Productions are ending our association with Louis C.K. We are cancelling the overall deal between FX Productions and his production company, Pig Newton. He will no longer serve as executive producer or receive compensation on any of the four shows we were producing with him—Better Things, Baskets, One Mississippi and The Cops.
Louis has now confirmed the truth of the reports relating to the five women victimized by his misconduct, which we were unaware of previously. As far as we know, his behavior over the past 8 years on all five series he has produced for FX Networks and/or FX Productions has been professional. However, now is not the time for him to make television shows. Now is the time for him to honestly address the women who have come forth to speak about their painful experiences, a process which he began today with his public statement.
FX Networks and FX Productions remain committed to doing everything we can to ensure that all people work in an environment that is safe, respectful and fair, and we will continue our review of all of these productions to ensure that was and is the case.
G/O Media may get a commission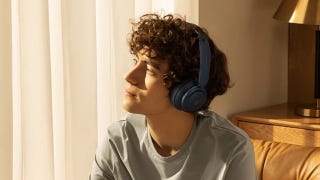 30% off
Soundcore Headphones and Earbuds