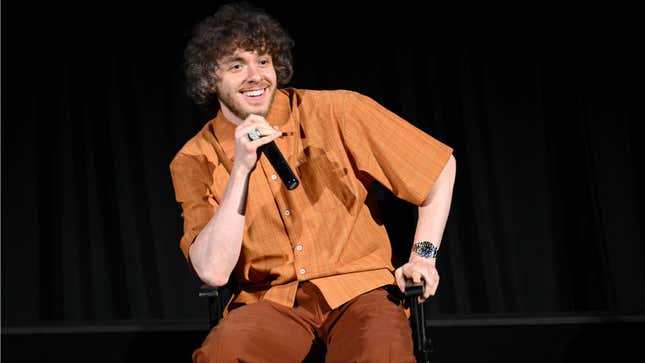 After crowning himself the "hardest" white rapper since Eminem on his most recent album Jackman, Jack Harlow appears to have determined the walls of hip-hop are closing in. During a Q&A following a New York City screening of his new film White Men Can't Jump, Harlow gushed over his blossoming relationship with acting, opining that the discipline gives him more "freedom" than music.
Matthew Mcconaughey thinks he might be Woody Harrelson's brother
"Through this film I was able to gain my confidence as an actor, and to me, this shit is not a side quest," he said (per People.) "This isn't a side mission that I'm tacking on just to keep the entertainer thing going and make some extra money."
He continues: "I really got the bug and fell in love with this, and I'm developing a deep passion for the craft of this the same way I had in music. I don't want it to be a side hustle, I want to full-on go after this, and I'm going after it and I'm going to continue to do more."
A remake of the 1992 comedy starring Wesley Snipes and Woody Harrelson as two enterprising hoopers, White Men Can't Jump puts Jack Harlow and Sinqua Walls in the spotlight. The film also features Teyana Taylor, Laura Harrier, Vince Staples, Myles Bullock, and Lance Reddick—White Men Can't Jump was one of the final performances Reddick filmed before his death in March.
Although Harlow admits that he found acting "way harder" than music, he says he "loved the challenge," and feels freer acting than he does rapping.
"It's funny, I definitely consider myself an authentic artist. I tell the truth on the mic, but maybe sometimes I feel some slight constraints in hip-hop because there's a tradition to it and I know I'm a guest in the genre," said Harlow. "There's things that go through your head from time to time. But with acting I feel liberated to some degree — I feel like I could show up and I could be whoever I want to be today. I don't know, I feel freedom."
White Men Can't Jump premieres on Hulu this Friday, May 19.